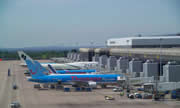 Aside from the several major international airports in the London area, the United Kingdom has many other significant airport facilities that cater to millions of passengers each year. There are twenty-five large airports (with regular services) in England, three in Northern Ireland, twenty-one in Scotland and two in Wales, with many other smaller airports accepting seasonal or chartered aircraft.

England:
Excluding the London airports, England's Manchester International ranks as one of the busiest in Europe with over twenty million passengers using the facilities each year. Birmingham, Bristol and Newcastle are also extremely popular with international travellers; whilst Bournemouth, Robin Hood Doncaster Sheffield, East Midlands, Leeds Bradford and Exeter Airports all serve over a million passengers annually.

Scotland:
Scotland has two particularly busy international airports, Edinburgh and Glasgow International, which see (combined) approximately eighteen million passengers each year. Glasgow's second airport, Prestwick, is a major hub for low-cost airlines. Other large airports in Scotland include Aberdeen (many international flights), Inverness and Stornoway.

Northern Ireland:
There are three major airports in Northern Ireland handling close to eight million passengers yearly. Belfast International is the largest, with some of the busiest routes out of the airport going to Spain. easyJet, Jet2.com and Aer Lingus use the facilities as a hub. The other two airports, George Best Belfast City and City of Derry, are used mainly by low-cost airlines such as FlyBe and Ryanair.

Wales:

There are two airports in Wales that operate scheduled flights, Cardiff International and Anglesey. Cardiff is by far the largest, seeing over two million passengers annually and operating as a hub for BMI Baby. Anglesey is a minor airport with only one scheduled service to Cardiff.