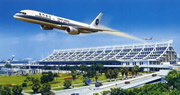 There are five major airports in the Greater London area, together serving approximately 140 million passengers annually. The busiest, Heathrow, sees half of the total passenger numbers and has recently expanded to five terminals. The smallest, London City, serves close to three million passengers each year.

London Heathrow:
Located several kilometres to the west of central London, Heathrow Airport is the busiest international airport in the world (third busiest in total passenger numbers). Heathrow has five terminals and is a major hub for British Airways, Virgin Atlantic and BMI. The most common destination airports flown to from London Heathrow include J.F.K. International (New York, United States), Dublin Airport, Amsterdam Airport, Paris Charles de Gaulle, O'Hare International (Chicago, U.S.), and Dubai International (United Arab Emirates).

London Gatwick:
Gatwick is situated almost thirty miles to the south of London near Crawley in West Sussex. Gatwick is a major charter airline airport for London, and is particularly busy in the peak tourist season (summer). British Airways, Virgin Atlantic and easyJet fly many routes out of Gatwick, which has two terminals (north and south). Thomas Cook, XL Airways, Monarch Airlines, First Choice and Thomsonfly are also major users of the complex.

London Stansted:
Situated nearly fifty kilometres to the north-east of London, Stansted is the third busiest airport in the wider London area. With a single terminal, Stansted is a major hub for RyanAir, easyJet, First Choice Airways and Thomsonfly.

London Luton:
Close to fifty kilometres north of London, Luton is growing rapidly. easyJet, RyanAir and Thomsonfly are major users of the airport.

London City:

Built on an old London docklands site, London City has a single terminal and services mainly European business centres such as Frankfurt (Germany), Geneva (Switzerland), and Zurich (Switzerland).