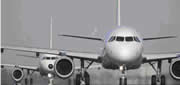 There are countless numbers of airports all over the world, servicing commercial airlines, freight shipments, chartered flights, private aircraft and even military operations. It is safe to say, however, that the overwhelming majority of airports follow a particular format and offer similar services. This means that travellers visiting unfamiliar countries or airports can still find their way around with minimal hassle, and can make use of the facilities they have come to expect from airport terminals.

Most large airports, such as London Heathrow, Paris Charles de Gaulle, and Los Angeles LAX, are so large that they need multiple terminals and runways to handle the aircraft traffic. Generally the terminals will be linked together, either by air-bridges or walk-ways, by subways, or by shuttle bus. For departing travellers who have landed at one terminal but have transportation arranged at another, these links between terminals are important to note. For connecting passengers (ie. those that are landing at the airport and departing on another flight almost simultaneously), it is common for the airline you are flying with to be contained within a single terminal so as to cut down on passenger and luggage connection times.

The majority of the multi-terminal airports duplicate the services they offer in each terminal complex. Duty-free shopping, rest-rooms, eateries, taxi-ranks, car hire facilities, medical care, immigration control, and rest areas for connections are standard to most (if not all) terminals. For single terminal airports, such as Liverpool John Lennon Airport, Edinburgh Airport and London Stansted, these services will be contained within the one complex.