Although the United Kingdom has one of the busiest airports in the world - London Heathrow - there are many others scattered across all seven continents that are worthy of note. Some of the busiest in terms of total passenger numbers are in the United States. Hartsfield-Jackson Atlanta International, O'Hare International, Los Angeles LAX and Dallas-Fort Worth International all cater to over fifty million travellers annually, though these numbers include domestic travel. It is the international airport hubs that are most worthy of note, simply because these are the airports that British passengers are most likely to use.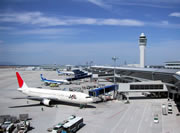 In Europe there are several major international hubs. Paris Charles de Gaulle International is the second busiest airport in terms of international passengers after London Heathrow, and is also a major destination for Air France and for freight airlines. Amsterdam Airport Schiphol, the home hub for KLM Royal Dutch Airlines, also sees significant passenger numbers; as does Frankfurt am Main International Airport, itself a base for Lufthansa.

There are many major Asian airports used for international flights and connections. Hong Kong International rivals Frankfurt and Amsterdam in terms of passenger numbers, and is a major hub for Cathay Pacific and freight airlines. Singapore Changi Airport, home base for Singapore Airlines, is a major connection airport for flights going to and from Australia and New Zealand. The main international airport in Japan, Narita International (sixty kilometres away from Tokyo central), serves as a primary hub for Japan Airways and Northwest Airlines, whilst Suvarnabhumi Airport (New Bangkok Airport) is the base for Thai Airways.